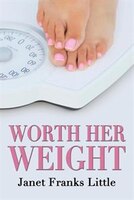 You can''t pick your family or who you love.
Vegetarian Brianne Gordon comes from a long line of cattlemen. The former heavyweight also meets and falls for Cort Hardison, a minor celeb and owner of fitness centers.
BOB, her battery-operated boyfriend is put away when they begin a steamy affair. But the pursuit of love is trip-wired with landmines. His endorsement of her father''s steakhouse is posted on its website… without his consent. Her grandmother reveals the secret of Brianne''s recent obesity to image-conscious Cort. His ambitious publicist schemes to end their relationship through intimidation and lies.
With hilarious, heartbreaking and heartwarming results, Brianne learns that love?like dieting and exercise?is never easy. She deals with one more bully to prove she is a woman worth her weight… no matter what it is.
List Price:
Price: